Thanks for this article..I'm.confused :-/ and I'm would love some advice from military perspective. For me I had a really good chemistry with this person. Everything was good….until he was informed about deployment. He told me he doesn't do well with long distance relationship. I told him I understood his decision since I had that experience and didn't blame him. But! The problem is that he's the ONE ?and I told.him I loved him with all my heart. He questioned this expression because we've met for only 3 wks already in person, and about 1 month via text. I feel I scared him away :( that was not my intention. He told me he would think about what he wanted to do with our relationship. He left for a trip for 2 wks so I send him a message wishing him to have fun & to wishing he would come back safe. I didn't hear back from him. A wk prior to sending him this last text I had send him a "good morning text" and I received a zero response :-/….HELP!
This guy added me on Facebook about a year ago and then messaged me on my birthday to ask me out for coffee.. At the time I was dating someone else and had to decline based on that and told him I appreciated the invite. A few months ago that boyfriend and I parted ways and a couple weeks ago I messaged that guy on Facebook and we started chatting for hours at a time online and eventually via text and seemed to really hit it off.. This last week we hung out several times and had a lot of fun. It seems he is into me by the way he talks and acts around me and I've made it clear I'm into him. However, since we hung out he hasn't been the one to text me first and has been really inconsistent at times with when he eventually got around to texting me back. Either he takes up to 24 hours to reply or sometimes doesn't reply at all. When we hung out he stated he had a lot on his mind right now and has been a bit stressed out with work. He works out of town on a 7 on 7 off schedule and seems to obviously have a lot of catching up to do with family/friends/life in general when he is home, so again I can understand the busy aspect of things.. I'm not a needy person, but I do text him maybe once a day just to say hello and to say that I hope he's having a good day or that he was on my mind.. I feel like I'm getting some mixed messages now about whether or not he wants to be talking or even moving forward with hanging out. I've noticed at times that he has been active on social media after not responding to my texts right away.. I am somewhat inclined to straight up ask him if he still shares my interest in hanging out more and if he sees me as a possible girlfriend, but again it comes down to appearing needy or coming across too strong too early in the game. Is it better to be forward and ask straight up? Or should I just ride it out, stop messaging him for a while and see what happens? Could this just be an indication of his texting habits and maybe I'm reading into it too much?
However, sometimes ghosting is the simple solution to an online dating match gone bad. Ben, 27, last ghosted a girl after a first [Tinder] date. "She had a lot of baggage," he explains, "and brought up that she recently broke up with a boyfriend she had been dating for several years… She was not ready to date – and that was what I was looking for."
Important Note: While I do believe – and have seen proof – that the advice and programs I provide can help you improve your love life , please understand that not everyone will experience the exact same results. To get the best results, you must use the advice I give you. Every person is an individual and every situation is unique so no single piece of advice will work for everyone at every time. But I can tell you that if you read the advice and continually apply it in your life, your chances of success increase dramatically. And I'm here to help you every step of the way. Let's get started!
You can't expect to get it right first time, so going on dates is a good way to test people out. Most of us go through our share of dull hotties, exciting weirdos, nasty charmers and kind ogres in the quest for true romance. Either that or it's a long barren spell. Experimenting with different types of people is good, even if only to make us realise what we don't want.
So, I've been talking to this guy for a couple of weeks. we have known eachother for awhile though but never talked to each other till recently. He was dating this girl for 2 years and they broke up 6 months ago , he messgaed me on instagram asking if i wanted to hangout sometime so i gave him my number! well we started texting for awhile but he isn't very consistent with texting and when we finally hung out i brought up how i always tect him for and he leaves me on read but then reply's to what i said couple days later. his reason was with school and work he has to work off his phone and my messages get pushed back and he would forget to reply, when he realized he forgot he had said it was too late to respond so i wouldnt bother. the next week he didnt talk much saying he had been, which i new he would be with what he had going on and moving out of his apartment that week. well he was active on snapchat at some concert so i thought i text him again and he never replied but still active on social media. i don't know if i shouldn't worry about it and text him again or just forget about it, maybe he isn't interested. i need help everyone i ask doesn't carer they just tell me i don't know. and i really need help figuring out what should i do.
Because if his age and friends and their wives I certainly (at 22 w/40 ish ladies around me waiting for me to eat my eords if give them any reason to truly dislike me, you looking to date wealthy will certainly encounter these women! So while their husbands and boyfriends adored me and my wit and my presence… Know it took years to win over the wives! Women can be simply cruel and viscous so If your not already known to them please realize you aren't welcome so you'd better be on your toes! (Fortunately I came from GOID breeding, a large amount of money on my mothers side and I was brought up and polished (While I never had a penny of the old money & still don't I didn't need it but I was given One hell of a fabulous BACKBONE SI PLEASE UNLESS YOUR SMART AND RELAXED AND TRUKY DONT GET YOUR FEELINGS HURT EASILY DONT ENTER THIS GAME! Money is even more covited than the handsome man I married w/an ex wife and 2chdren but ambition and a willingness to go the extra mile,invest wisely and WORK HARD AND HE STILL DOES! I simply adore him! I enjoy his Police (as much as one can) and Love his retirement career! It's tremendously rewarding and shows his true interest in what I did and I've always been interested in the Kaw so??? We work! I once sold Fine Jewelry and diamonds for a living before working my way up the latter in a predominantly male run world of corporate management. To become an RVP (not because if any degree I'd earned after High School but because I loved my work & I still find great gratification helping strangers and My husband "Close a Sale!", that's magical and tantemaount to great sex if you ask me.
Okay, not off the face off the earth, but just enough to remind them how much they love spending time with you. "New couples often go through a stage where they're living in each other's pockets," says Spurr. "Then there might come a period where the excited feelings level out. Before that happens, take a step back and be a little less available." Spend more time with your friends, see your family, work late a few nights. "This isn't about game playing but it'll give you a greater sense of control of your own emotions, and help to heighten theirs."
Some people are clearly better than others at this. I have two sets of friends — one couple is married with children, and another couple will soon be married — who have met through me. I don't try to set anyone up, I just enjoy going out with all of my friends. So, I work hard to merge my college friends with my work friends with my high school friends.
What being a millionaire does mean, is that my house I live in is paid for. The house is an 1800 sq foot home that isn't fancy but is paid for. in a postage stamp yard housing community. We both drive newer cars instead of beaters, but mine was purchased used in 20012 and his was purchased new for $13,000.00. what it does mean is that we are saving for an 18 acer estate raw land we can developed ourselves for our own use and have accumulated enough for it's purchase but not development. What it means is that after this large purchase where our paid for house will pay for the estate development, we will continue to save. At a certain point when the INTEREST can pay the same amount as his income now, while working, he can retire.
Love is the key to a good life, with riches or without true love from the heart creates riches because two to three minds are better than one. Death and loneliness comes to all but true Love covers all. Love makes lasting and real friendships which are not based on things but people and keeps the friends or family. Things including riches are to be shared with family, children who have no one in this world to take them to school, to provide food and clothing, teach them how to be rich and help others too, elderly and lonely too. when rich and poor die. they can take no riches or poverty with them. A rich heart makes riches becomes happy when sharing, knowledge, ideas, money and many more. I am rich in sharing all I can with those who do not have.
8. Present a challenge. "Let the guy know you like him, but don't take his initial interest as a signal to latch on to him right away," Kelleher suggests. She points out that "three dates do not a relationship make." We're not talking The Rules here—don't hesitate to return his call in a timely fashion. But don't build your social life around him (for example, keep your Friday night theater subscription with your friend Beth) and don't press him to talk about his "feelings." Do make it clear that while he's a welcome addition to your life, he is not the whole enchilada. This is all subject to change after you have been dating awhile and the relationship has become more serious.

If there is one area I see women mess up time and again, it's in trying to define a relationship or tie a man down too soon. That's because her need to feel "safe" is in direct contrast to his innate desire for freedom and not being tied down. If you think about it, every soldier anywhere who has ever been killed in action has died trying to defend their idea of freedom.
Hi Eric, I'm stuck and not sure if you can help but I thought I'd give it a shot. So me and my ex(it's complicated) met at a party in May. I was 22 and he was 19. What I thought was a one night stand turned out to be a relationship. He said he's faithful and doesn't do one night stands and wanted to get to know me (he was drunk when he said this). Anyways after a month of friends with benefits and me slightly pressuring him on making me out, we started dating. Although the relationship still seemed like friends with benefits just with the added title. We would mostly hangout at my apartment, have sex, and then he would leave, everytime! I confronted him about this and he's said it was because of his parents, even though he was an adult he had a curfew, even though it was usually around 2am when he would leave. Things were good though he made me feel good about myself, would always make me laugh, even bought me flowers after a small fight we had. Then it started going downhill when August came around. He goes to school in another state and we both knew that soon we wouldn't be able to spend time like this anymore. He started hanging out with his friends more and bailing on plans with me. Along with that other things about his personality started to bother me so a week before I confronted him on how our relationship was not working out and how I wasn't happy anymore I felt like he didn't care about me like he used to. This talk was so heartbreaking, he started crying which made me start crying and we came to the decision to break up but still talk to each other to see if the long distance thing could work. He didn't want the clean break because he said he loved me but hated how I always got mad at little things. So we left it at that. Since then we barely talked up until this week when he came home for thanksgiving break. Upon his arrival all I got was a snapchat saying he was back in town. I asked where he was and he replied saying he was at his friends. That night I awkwardly saw him for 2 seconds and left to go downtown to the bars with my friends. He said his phone was dead so when I get back I should text his friend. So I did when I got back and him and his friends were all still hanging out. I stayed up waiting for him to come over but he never showed. He texted me at 4 am saying he found a charger, and I replied by asking if he was coming over. He didn't reply for 2 days. So I got depressed and decided I would not text him back. (I know this is my flaw, I'm a spiteful person) So after the 2 days he sent a text asking "What are you doing late tonight?" I thought it was a booty call and didn't feel like responding anyways. The next night he asked if I wanted to come to a party, then what I was doing, and then attempted to call me but I ignored it. Today I texted him and asked when he was planning on leaving and his reply was that he already left. And this conversation lead to all the issues we had in our relationship. He doesn't make me feel appreciated and/or loved because he doesn't show that he cares. His words>"nothing is good enough for you, you hold ridiculous standards, and you get mad for the smallest reasons". In my heart I know I should end it because we're obviously not good for each other but at the same time I'm pretty sure I love him and think maybe he'll mature when he's older. Since he's still 19 and I'm now 23. I do care about him a lot and he says the same for me. Do you think we could learn to accept each others flaws/ mistakes or should we just completely end things?
Maybe that's true. But personally, with rich/successful guys, asking for money is like the WORST thing you can do. Even if your kids are like dying or you have to live on the street. You should be REALLY careful (and really just avoid altogether) asking for financial help of any kind. Just drop hints you're struggling financially and if he really cares about you, HE will make the decision to give you money (and really the decision needs to be his). This is SO important.
Here's one you might not have thought of: humming. At first you might feel a little weird, but the payoff will be worth it. "Humming causes your mouth to vibrate in a way that feels similar to sex toys," says Gardos. Plus, varying the pitch of your voice creates a range of sensations: Lower pitches create slower vibrations; higher pitches, faster ones.
How To Fall In Love With A Boy
Drop the games. Nobody likes a partner who plays "head games". This is deceptive, and will hurt anybody who trusts you. Be real, don't play games, and good men will respect you and may even pursue you. Playing head games will only make good men run away. Remember the communication thing? That is especially true here. If you like a guy, don't push him away and act like you don't like him. Tell him. Yes, there are some men who do like the thrill of the chase, but all good men genuinely want to respect you and your wishes, and will leave you alone if you insist on it. Remember, men communicate directly; if you act like you don't want him, he'll think you don't want him.
The underside of your tongue will feel really good on his most sensitive spots – namely his nipples, an often ignored erogenous zone on men. Its silky texture will feel so sexy on his most sensitive spots – namely his nipples, an often ignored erogenous zone on men. "Although many men are embarrassed to say it – because it seems like something only women should like – they secretly crave to have you pay attention to this area," says Gardos.
* Be a lower high maintenance woman. High maintenance women generally have a bad wrap. They take two hours to get ready, love to take pictures of themselves, aren't grateful and have never met a mirror they don't like. The flip side is that they generally look good. A rich man loves to have a beautiful woman on his arm. He feels proud to call her his girl as onlookers check them out.  The "level of maintenance" is highly subjective. If a beautiful woman can turn it down a notch based on his perception, she'll be much more attractive. Simple things like saying "thank you," leaving the house in comfortably simple clothes, and offering to pay once in a while go a long way.
To marry a rich man is one thing! But to keep it going is another story! Yes he can afford what ever you like in life, but does he feel he is appreciated! There is a big difference between give and take! Can you cook a nice meal so he can be appreciated! although you don't have to! Are you a person that can calm him down if he had a terrible day! Are you prepared to give him his own space! So having a rich man is one thing, but to keep it going is another! Nice things in life is fantastic, but is it appreciated by the good heart that is giving it?
If he's not pursuing you, it's time to stop pursuing him. Guys who are interested text back. Guys who aren't don't. Don't bother trying to change his mind. You need to have the confidence to realize that if a guy doesn't see how great you are, it's his loss. Let go of him and move on to a guy who will be excited to have you in his life. You can't fight for a guy who's not fighting for you. At the end of the day, you just have to accept that no message is a message — that's his way of telling you he's just not interested.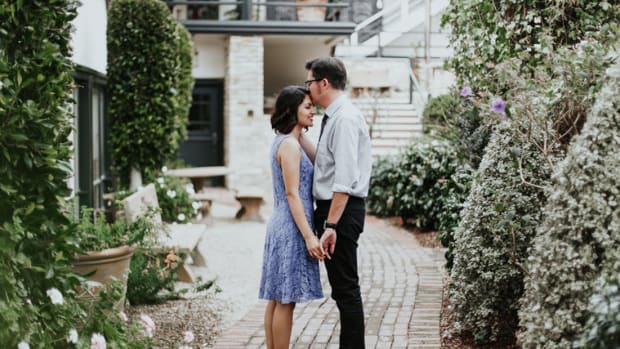 Sadly, the stereotype of the smart girl who thinks she must play dumb to be popular isn't a fiction. In this book, Laura Fullbright is an extremely smart girl who decides when she changes high schools that she'll hide her past academic achievements so she can become popular. She joins the cheering squad where her gymnastics experience makes her a valuable addition. Her best friend Krista who has been with the same guy since she was twelve, is pushing Laura to go out with Jake who is good looking, but dumber than a box of rocks. She's tempted. After all, hasn't her goal this year to be popular and shouldn't that include a hot boyfriend? 

I list this signal with some reluctance, and you can probably guess why. I would never advise a grown woman to twirl her hair to get a guy's attention. It seems equivalent to the oh-so-ridiculous "bend and snap" from Legally Blonde. That being said, women do like to touch their hair. It gives us a rush of oxytocin and, according to research, we do it when we want men to approach us. Furthermore, according to research, men pick up on this and respond accordingly. So, yeah, obviously don't start twirling your hair in an inauthentic come hither fashion. But if you do find yourself rearranging a curl or sweeping your hair from one shoulder to the other, roll with it.
Hi Eric, a guy from work and I have been talking about dating and getting to know each other more for about 7 mos. We didn't have an actual date until 6 mos after we've been talking about dating. We've shared alot of intimacy. He even asked how committed I wanted to be. I told him I'd like to have a growing, flourishing relationship with him. He said he's looking for something very long term if things all work out. A couple weeks ago I got too anxious, excited and emotional and sent him a string of texts asking what's going on and how do I know if you don't tell me. He didn't reply to any of them. Earlier in the relationship he said communication is one of 3 important things in a relationship. I asked him if we could work this out and I got no reply. I'm lost and don't know what to do or say to him. Please help! Thank you!
#16. Be COMFORTABLE around him – He wants to grab your love handles, and suddenly you are pulling away, asking him if he thinks you're fat.You also become insecure when he wants to make love to you. Or you just struggle to open up to him. All of these things tell him that you are not comfortable around him, make him feel insecure, and make him QUESTION the point of marrying you.
When asked the difference between a "weekday" text and a "weekend" text, Nate, 30, says that there isn't one – "unless it is after midnight and the bars are closing." I feel compelled here to remind everyone of the Jersey Shore wisdom of "Nothing good happens after 2:00 A.M." (unless you're at Steak 'n Shake – and Nate will be there with chivalry and cheese fries).
If the man uses his wealth to be arrogant and flashy, while treating women like disposable objects that they can buy off, this would just add to my mistrust in a man, and make me feel unstable. If I am required to be fashionably uncomfortable and walk in heels to attract a wealthy man, or fake like I care about solving world hunger and feeding Somalian children (which will never be solved, btw, as long as family planning is not valued) I would personally find it a sacrifice on my natural health and personal morals. So instead of a man having the effect that it naturally should on me, as a stable, protective, provider, money would have the opposite effect.